Sports Reports
Boys and Girls Year 5/6 Football Tournaments
Both our Year 5 and 6 boys and girls football teams have been in action over the last couple of weeks. Competing in small-sided matches against other schools in the area, both teams equipped themselves brilliantly, putting in spirited performances in every game.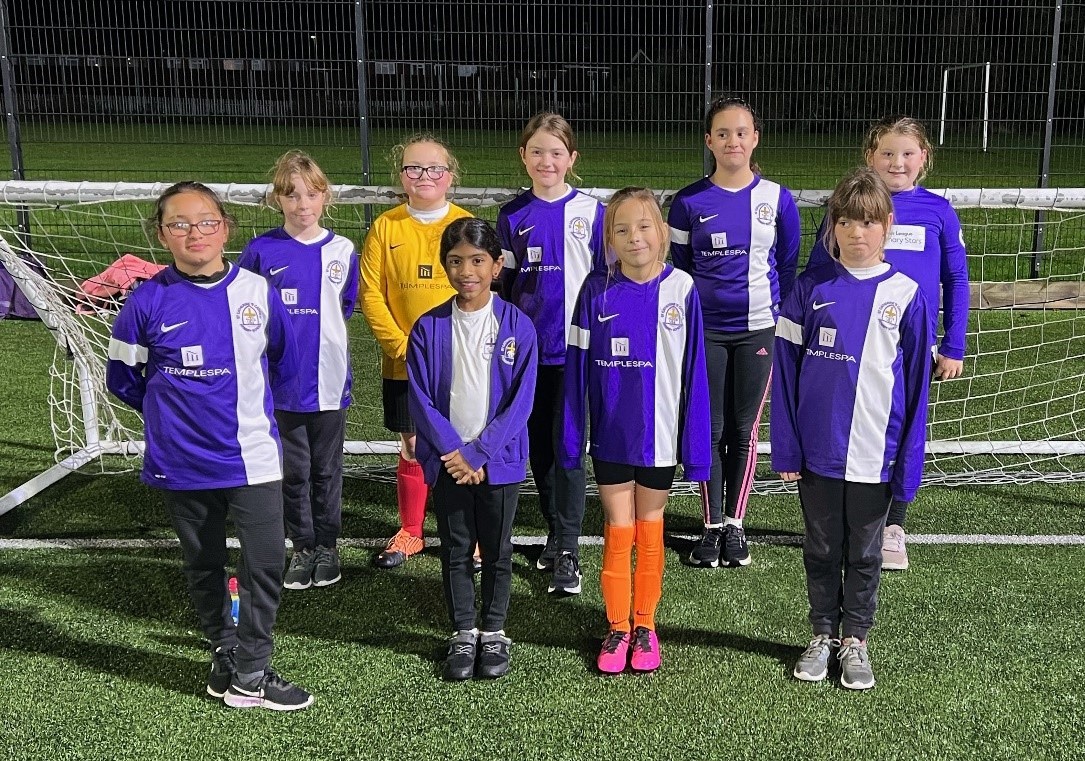 The girls showed their defensive skills by keeping 5 clean sheets from the 9 games they played, with 1 win, 4 draws and 4 defeats. All the girls worked really hard for each other, showing great determination against strong opposition. There were some stand-out moments from the team including Sasha's great goal in a one goal win against Rustington, Jessica and Tamzin's great defensive show against a very strong White Meadows and Lucy's great goalkeeping to keep the scores level against River Beach. All in all, a fantastic showing from the girls.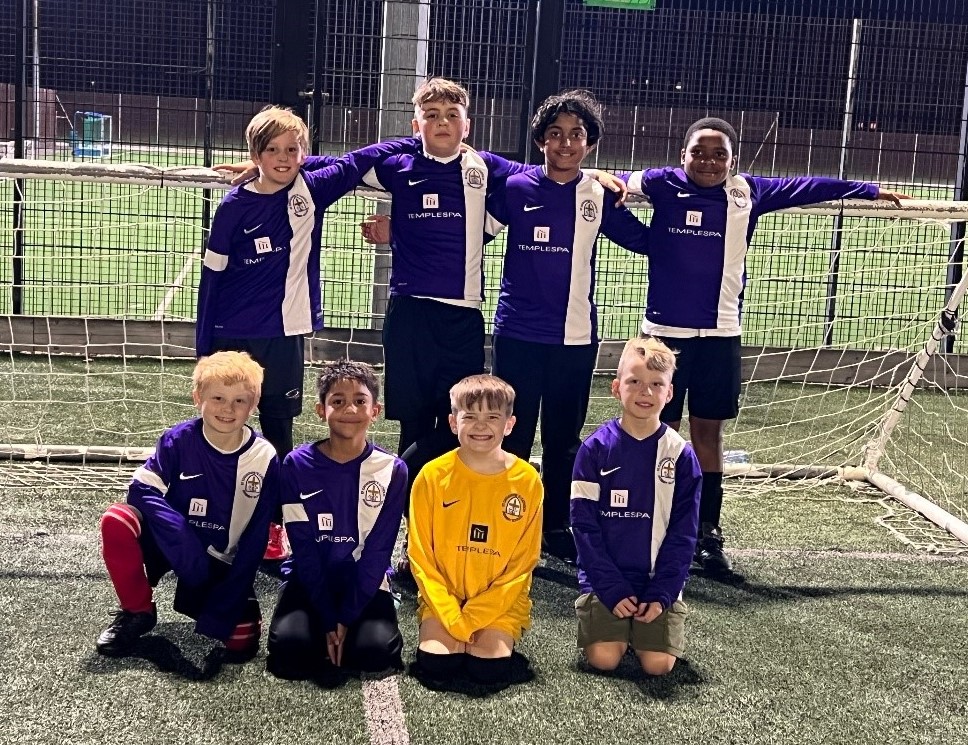 It was the boys' turn a week later to represent the school. They put in lots of fantastic performances, winning 5 and losing 2 out of their 7 matches. The boys really turned on the style in a 3-0 victory over Arundel with an Obinna double and an Artur wonder strike sealing the win. A really tough match against Clymping followed. With the scores level in the last minute, Jacob was brave to beat the goalie to the ball (taking a hefty challenge from him in the process) and pass to Obinna to give him a tap in to win us the match with the last kick of the game. Overall, the boys achieved a 3rd place finish.
Year 3/4 Hand Ball Event at TLA - 9/11/23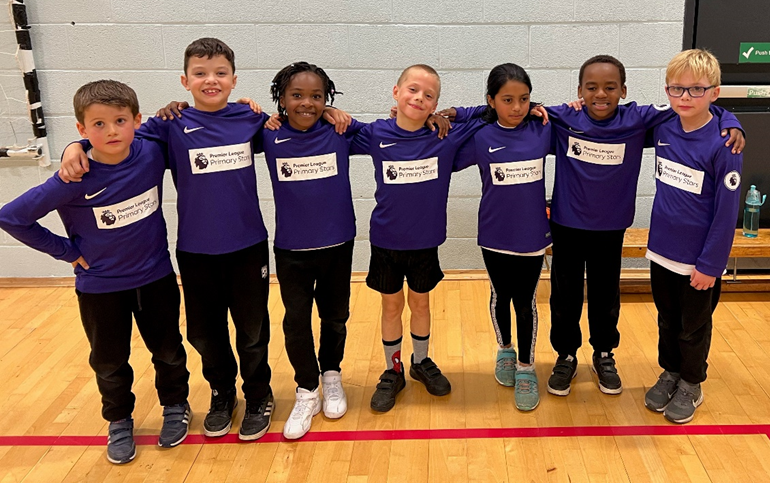 Our Year 3 and 4 sports stars were involved in a handball event at TLA last week with the team taking part in some sessions to improve their handball skills before partaking in three small sided matches against other schools from the area. The training they had put in very much paid off with two wins and a very narrow defeat. The enthusiasm the team showed was brilliant with all players taking part wanting to improve their skills and compete fairly.
KS2 Cross Country at TLA - 9/10/23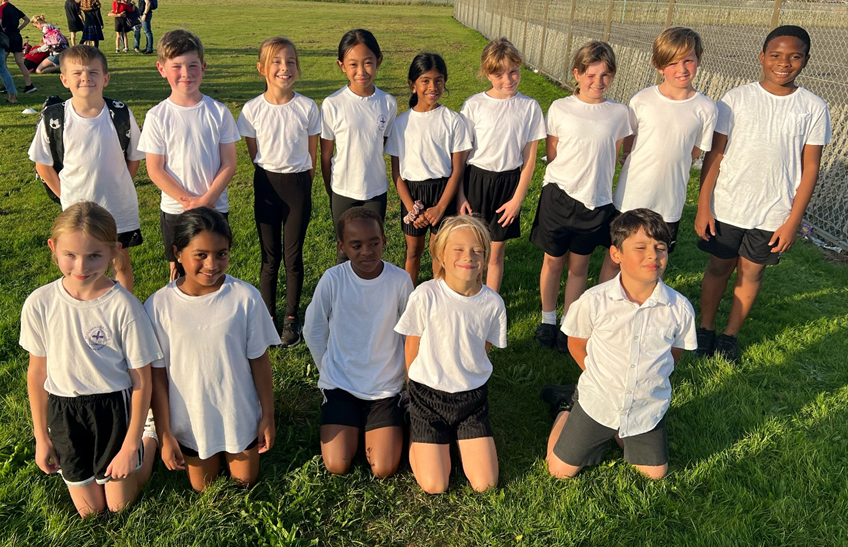 Pupils took part in our first competitive event of the school year with a cross-country event held around The Littlehampton Academy grounds. A 1.2 kilometre course was the challenge for the runners to complete in the fastest time possible.
In the first race of the day we had Willow and Leandra taking part in the girls' Year 3 and 4 race with Willow finishing an impressive 8th and Leandra 25th out of a possible 72 runners, which was an amazing job from the two of them. Next up were the boys from Year 3 and 4 with Keanu in 19th and Harry in 24th the pick of the boys' results out of a possible 76 runners.
In the girls' Year 5 race we had 3 girls taking part, Isabel 13th, Kirztie 22nd and Mia 24th, which was a very good showing out of 51 runners. Next up we had our best showing from Sasha in the Year 6 girls' race as she finished up in 4th place just behind the top 3, missing out on a medal by a small margin but still a top achievement from her.
The last race of the day was our boys in Year 6 with Charlie 17th, Obinna 26th, Jacob 28th, Ben 29th and Georgi 35th. All the guys taking part did a great job in finishing the event with most of them able to run the whole way round. They were also very supportive of each other whilst watching their teammates which was great to see.
Year 4 Tennis at TLA and West Worthing Tennis Club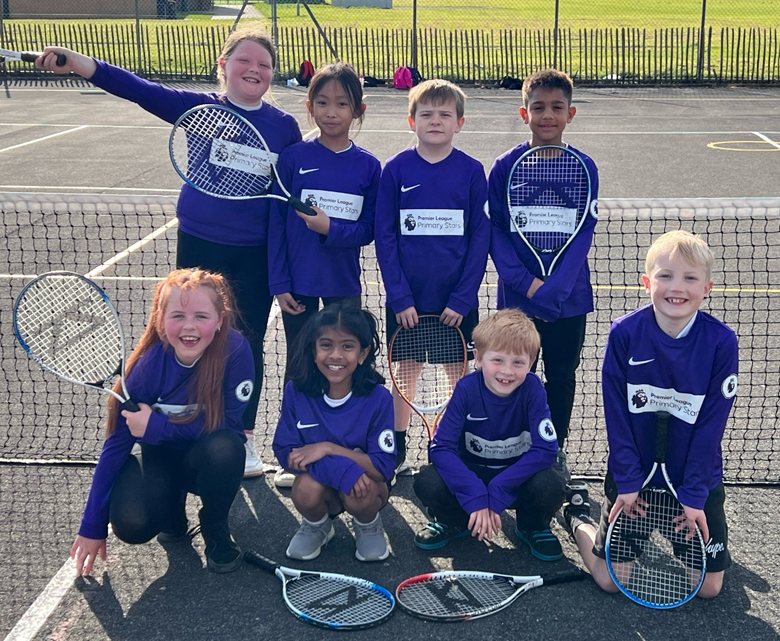 Our Year 4 tennis team took part in a recent LASP event in which they competed against 6 others schools from the local area in competitive singles matches and mini-challenges. The girls went first and did an amazing job. Leah and Kirztie won 2 out of their 4 games played with Isabel winning 3 out of 4 and Rosie winning all 4 of her games which was a fantastic achievement. All in all, the girls finished second out of all the girls teams in attendance. The boys equally did a brilliant job in their matches. Oliver and Jacob both won 2 out of 4 with Ben and Callum winning 3 games. The boys matched the girls in finishing second. Once all the mini-challenge scores had been added up we finished in second place in the overall standing which sent us through to the next round of competition.
Two weeks later the same 8 children went to West Worthing tennis club and went up against other winners and second place teams from schools from further afield. The competition was very strong but our team held their own in taking on more mini-challenges and this time it was doubles matches. There were some stand out moments from our guys. Callum and Jacob showed great team work in their doubles matches, winning most of their games. Kirztie was one of the best children in the balance the tennis ball game. Rosie did a great job in the hitting as many tennis balls down with a server in 1 minute with six. All the children played their part in our team coming a great 4th place out of 6. Callum was named one of the players of the tournament which was very well deserved.
Year 1 and 2 Matball at TLA - 30/3/2023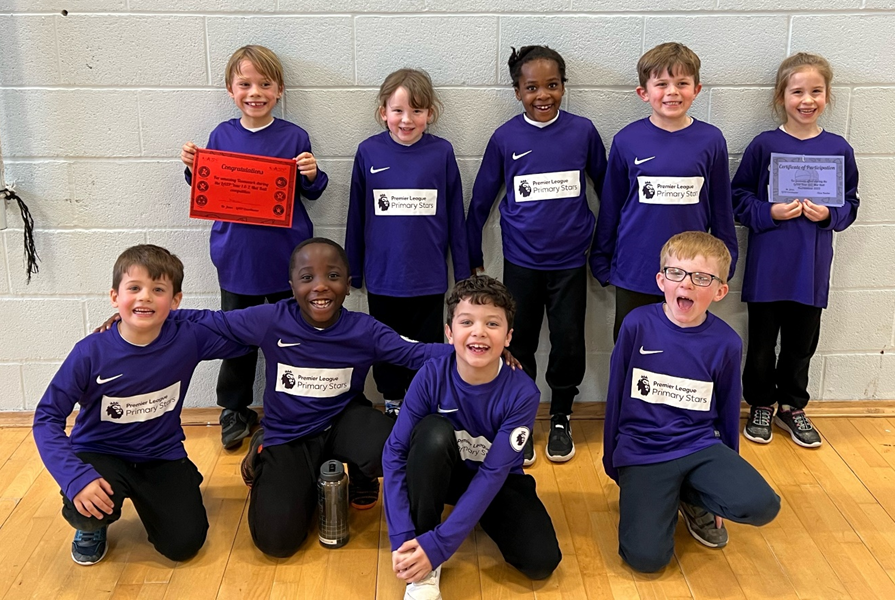 A group of Year 1 and 2 pupils took part in a matball competition at TLA to round off the sporting events for the spring term, and they did it in style with a record of winning 7, drawing 1 and losing 2, putting them in 4th place overall out of 10.
Year 1 and 2 have been practising and learning the game of matball in PE with Miss Walters and Mr Green and it really showed on the court with St Catherine's winning their first game 8-1 against River Beach. The team showed off their team work and understanding of the game in this big victory. Next they played two really hard fought games against White Meadows and Arundel, with a 4-4 draw and a very close 6-4 loss against eventual winners Arundel.
They then stormed through their next 5 games with 5 wins on the bounce with players like Lottie, Keanu and Thomas scoring lots of points. Forest, Ethan and Harris also did some great work defending our mats from opposition players. The pick of the games was a 4-0 win against Lyminster with the matball on show earning applause from the competition organiser Mr Jones.
The final 2 games saw more great matches and another really close game against Summerlea which they won late on. In the final game of day, the team showed no sign of tiring and picked up another win to round off an enjoyable afternoon.
Year 6 Hockey at TLA - 16/3/2023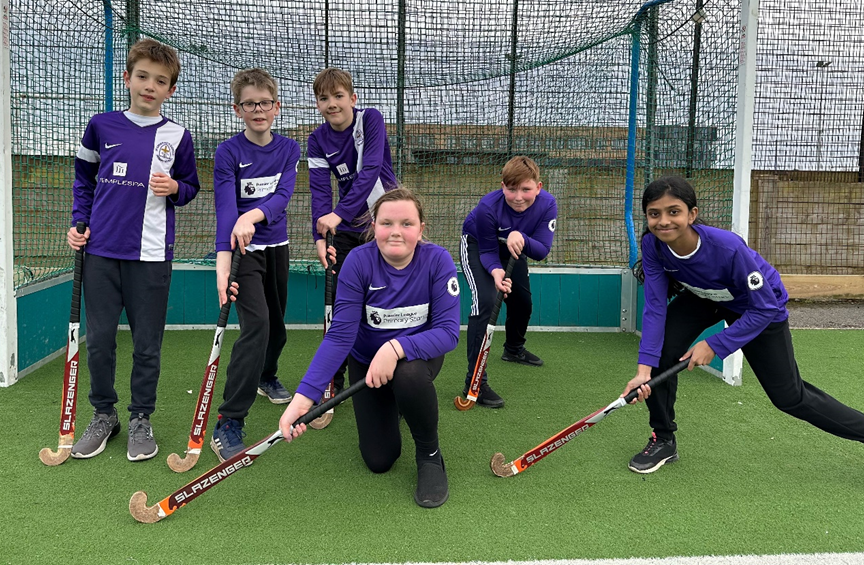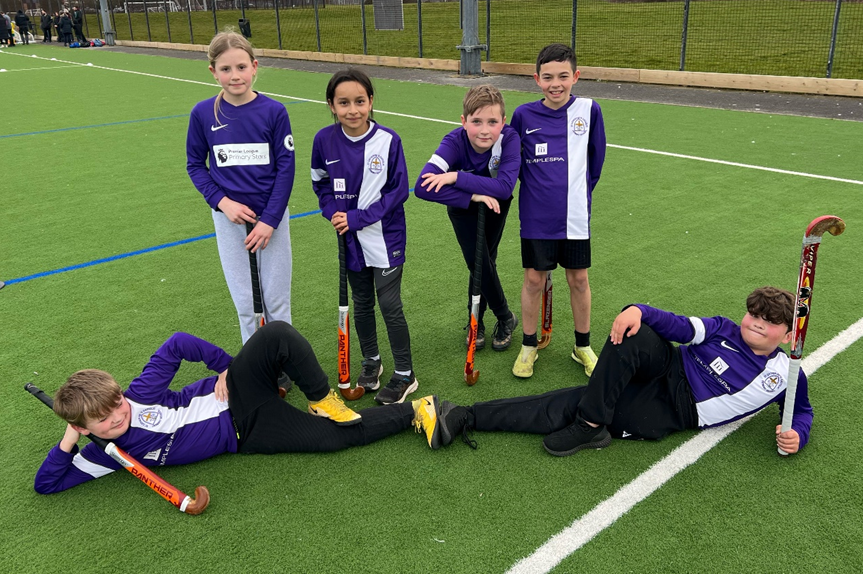 Some of our Year 6 pupils put the skills they have been learning in PE to good use in a Quicksticks hockey tournament that took place at TLA. St Catherine's took two teams of equal ability to take part in 2 different round-robin events with both teams equipping themselves well.
St Catherine's Reds consisted of Armelle, Maisie, Filip, Noah, Jensen and Tian and although the team ended in last position, they showed some great moments. In a 3-2 defeat to Summerlea, Jensen gave us an early lead in the opening seconds of the game. Summerlea then got back into the game before an excellent team goal with great combination play between Jensen and Armelle gave us the advantage. Unfortunately we could not hold on and Summerlea managed to win the game late on. The final game St Catherine's Reds played ended in a 1-1 draw with Tian using his hockey experience to good use controlling the game for the Reds and Noah and Filip defending our goal well from River Beach's attacking players. Our attacking players Maisie, Jensen and Armelle were a constant threat going forward. Positivity was the word of the day from the reds and although they didn't get the results they wanted, good fun was had by all and it was a good learning experience.
St Catherine's Blues did an amazing job finishing in second place playing some brilliant hockey along the way. The team consisted of Lucy, Viktor, Harley, Kripa, Tom and Samuel. Every single player played their part in helping the team to win 4 out of their 5 games. Harley and Viktor scored 6 goals between them with Lucy and Samuel chipping in too. A very close game between eventual champions White Meadows was the difference between St Catherine's Blues taking home top spot. But all the same, they should be very proud of their efforts in achieving second position for the school.
Year 6 Netball - 2/3/2023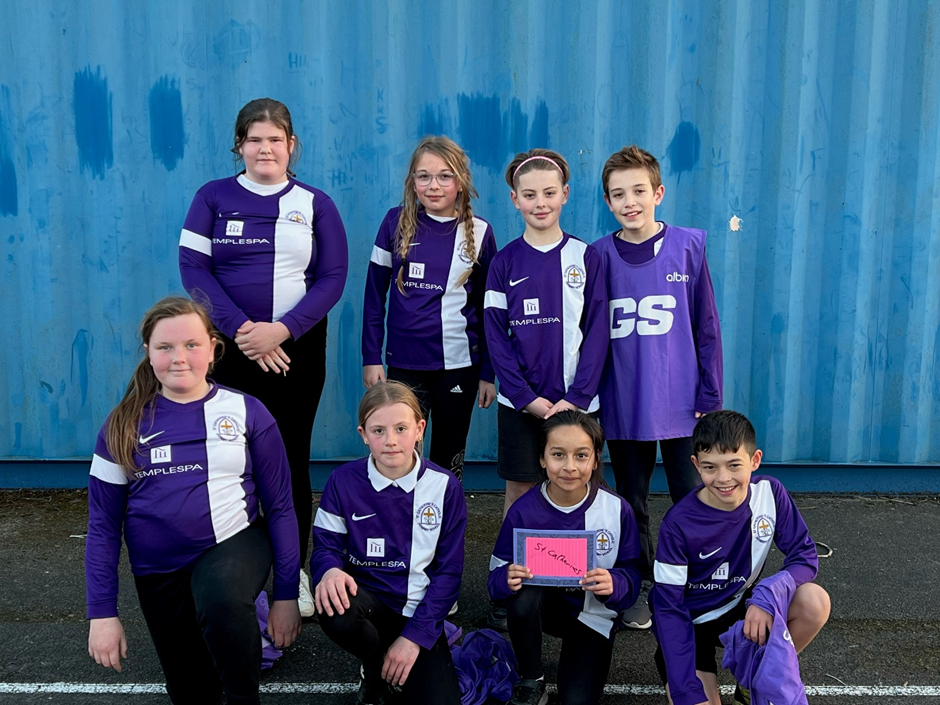 The Year 6 netball team's hard work on the training pitch really paid off in the most recent LASP event. The team had been dedicating their lunch times in the build up to the tournament improving and honing their High 5 netball skills. The first 2 games were played against Lyminster and White Meadows. Both games were hard fought but even and ended in 0-0 draws. The 3rd game of the tournament was played against River Beach A in a very dramatic encounter. St Catherine's opened the scoring through Lucy after dominating the opening part of the game. River Beach then struck back levelling it up at 1-1. The game looked like it would end in a draw but in the last second Harley stood up and under great pressure, scored to give St Catherine's the win. This gave the team great confidence and in the next 2 games there was some great play with everyone on the pitch playing their part. Game 4 was a delight to watch with St Catherine's running out 3-0 winners against Rustington with 2 goals from Jensen and 1 from Maisie. Game 5 again was another netball masterclass. This time it was Aiden and Ashton with the goals, wrapping up a strong team performance. Unfortunately, the unbeaten run came to an end against eventual winners Arundel, going down 2-0 with St Cath's giving as good as they got but Arundel just having a little bit too much in the end. In the team's last fixture, they bounced back brilliantly to end on a high in a 2-0 win against Summerlea with a double from Harley wrapping up our final game of the tournament in style. With all the scores added up, St Catherine's came out with the bronze medal, finishing 3rd out of 8 teams. A massive well done to Armelle, Ashton, Aiden, Harley, Jensen, Ruby, Maisie and Lucy who led St Catherine's to their highest ever netball finish. A great achievement and a great memory in their last year at the school.
Year 3/4 Football at TLA - 9/2/2023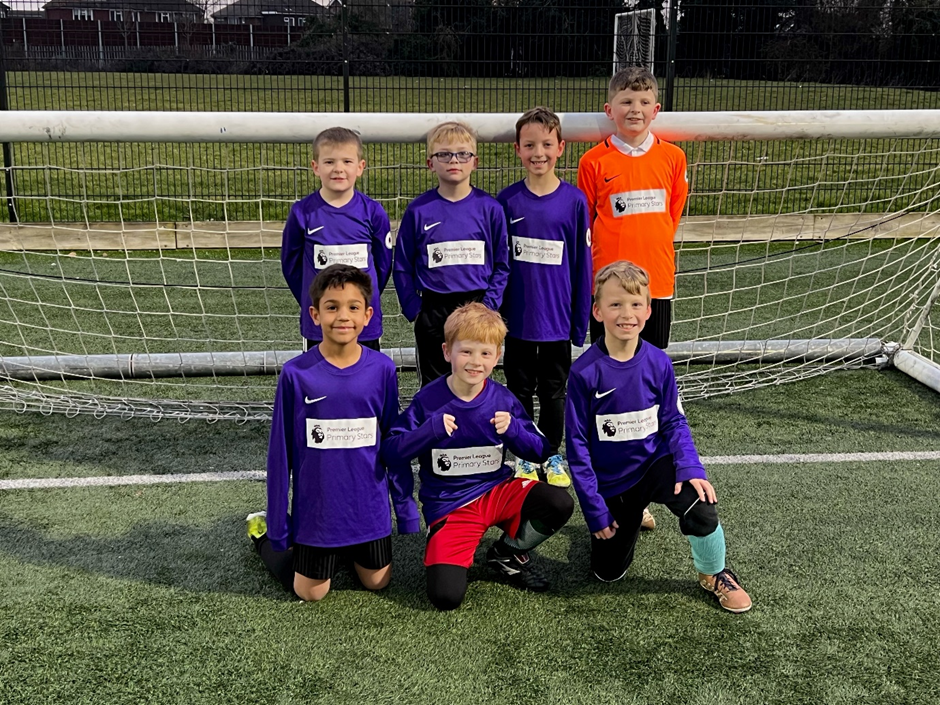 This time it was the turn of the Year 3 and 4 boys to represent St Catherine's and they showed some moments of magic that lit up the tournament. The first game the boys played was against Arundel and they secured a 2-1 win with Callum scoring both goals. They were already showing great teamwork with Ben, Callum and Jacob linking up very well in the attacking areas. River Beach (team one) were next up and St Catherine's were so unlucky in a 1-0 defeat in which they hit the post and crossbar and the opposition goalie pulled off several good saves. The River Beach goal came in their only attack of the game. Flynn made an outrageous save but unfortunately the rebound was scored. The third match was where all the magic happened. Zak opened the scoring and the joy on his face was amazing to see, a great moment for all. The second goal was by far the goal of tournament. Harry picked up the ball and played a lovely pass out wide to Jacob who then played a one two with Ben. Jacob then crossed in a cracking cross for Callum to slam home from close range. The goal was amazing and had all spectators in amazement with the precise team play and calm finish from Callum. The game finished 2-0 to St Catherine's. The next two games ended with defeat with Summerlea winning 4-0 in a game in which the boys heads dropped after a good start. The last game was a 1-0 defeat to White Meadows in a much closer game. The boys finished in 6th place out of 10 and really enjoyed the chance to challenge themselves against other schools in the area.
Year 2 Football at TLA - 26/1/2023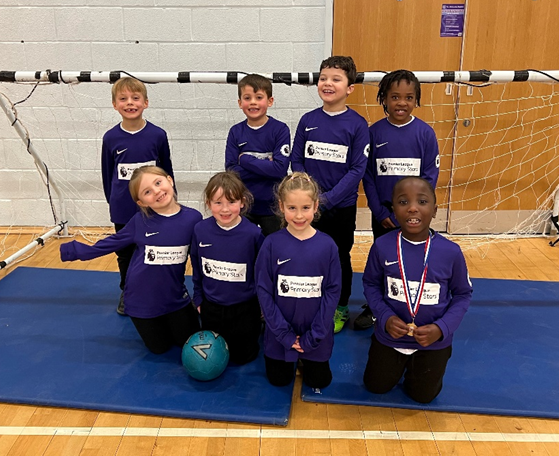 Some superstar Year 2 footballers took part in friendly fixtures at TLA on their indoor football pitches. The first game was played against Arundel Church of England School and St Catherine's emerged 4-1 winners with two great goals from Thomas, a well-placed strike from Harris and Khaleesi rounded off a great performance with a fabulous goal to give us a great start to our matches. Our next fixture was against White Meadows. Christelle and Harris combined well with some great passing to give St Catherine's an early lead. Unfortunately we were not able to hang on and White Meadows ran out 3-1 winners but it was a strong performance against a strong team. In the last game our defending came into its own with Lottie, Keanu and Liliana doing a fantastic job in protecting our goal and not letting St Mary's score. Goals from Thomas and Ethan were enough to secure us a great victory. Overall it was a brilliant event for our Year 2 pupils to play some games as a team and learn some new skills in further skill games after their matches. Harris was awarded the most improved star player by the Sports leaders from TLA. Well done everyone!
Year 5 and 6 Indoor Athletics at TLA - 16/1/2023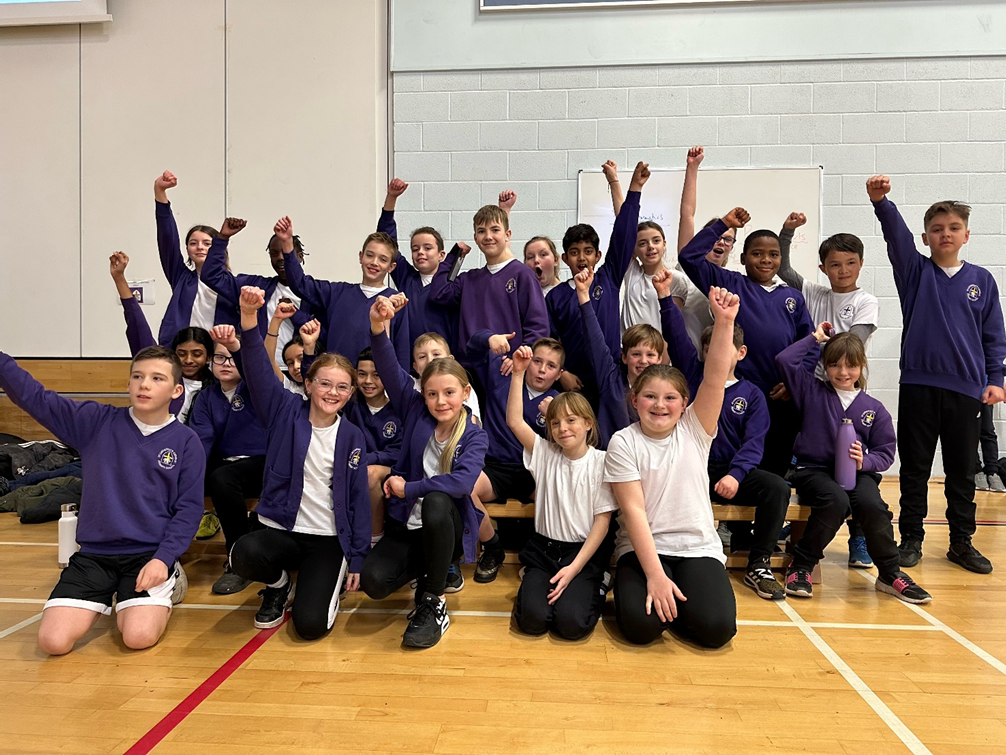 Selected boys and girls from Year 5 and 6 took part in an athletics tournament at TLA. The event consisted of running, jumping and throwing, and we were competing with five other schools from the local area. The obstacle race was the first event, with the Year 5 boys doing especially well. Using great team work with a mix of agility and speed, they were able to finish second in the race and third overall. The next event was the speed bounce where the athletes had to jump over an obstacle as many times as they could in thirty seconds. All of our team equipped themselves well but a special mention has to go to Alexander who was like a machine on the speed bounce, posting an excellent score for the team. Next up was the 1 lap race. It was the Year 6's turn to impress with Harley and Jensen coming so close to winning their race and posting very impressive times. The final short distance race was the 2 lap race. All our teams posted solid times, with the Year 5 girls' team of Esmae and Keira giving us our strongest showing.
We then moved onto the field events where as a school we put in our best performances. In the throwing events both Lucy and Artur scored second place out of six in their events. In the jumping events, Stanley scored first place in the long jump as did Imogen in the triple jump. Filip rounded off our strong showing in the field events with second place in the triple jump. The final event to take place was the 4x1 lap relay. The Year 6 girls' team put in a storming time, which put them into a bronze medal position in the Year 6 girls' table overall. St Catherine's finished a very respectable fourth out of six overall. Both Mr. Langlois and Mr. Green were proud of the efforts and determination of the children that took part and are already looking forward to the next event.
Years 4, 5 and 6 Multi-Sports at TLA - 1/12/2022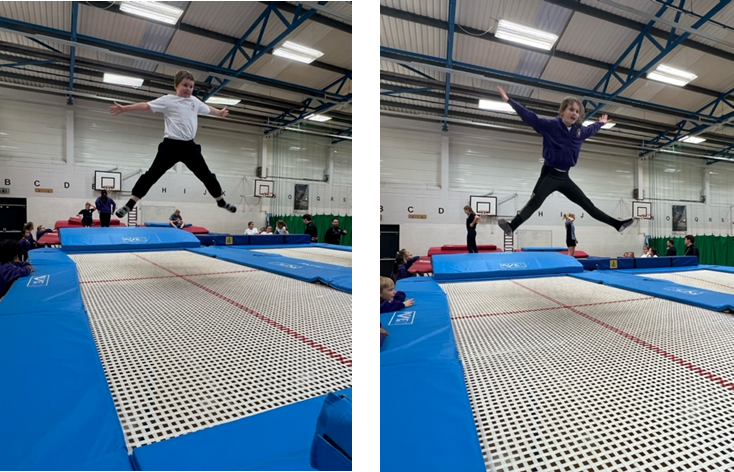 A selection of pupils from Years 4, 5 and 6 were chosen to take part in a multi-sports event at TLA for pupils to try sports that they would not normally get a chance to take part in. The selected sports to play were the three Bs: boccia, bouncing and bench ball. Great fun was had, especially on the giant trampolines with pupils jumping as high as they could and being shown tricks by the TLA leaders for them to try. Next was bench ball where we teamed up with Summerlea school to take part in a bench ball game which was picked up very quickly by our team. We managed to play a great match against Summerlea school which ended in a draw. The final event was Boccia which was our best event. Some seriously high skills were involved in this sport and the pupils from St. Catherine's were up to the task, managing to conquer Boccia. There were even some trick shots coming out by the end. The pupils who took part definitely left the event on a high.
Year 4 Girls Football at TLA - 17/11/2022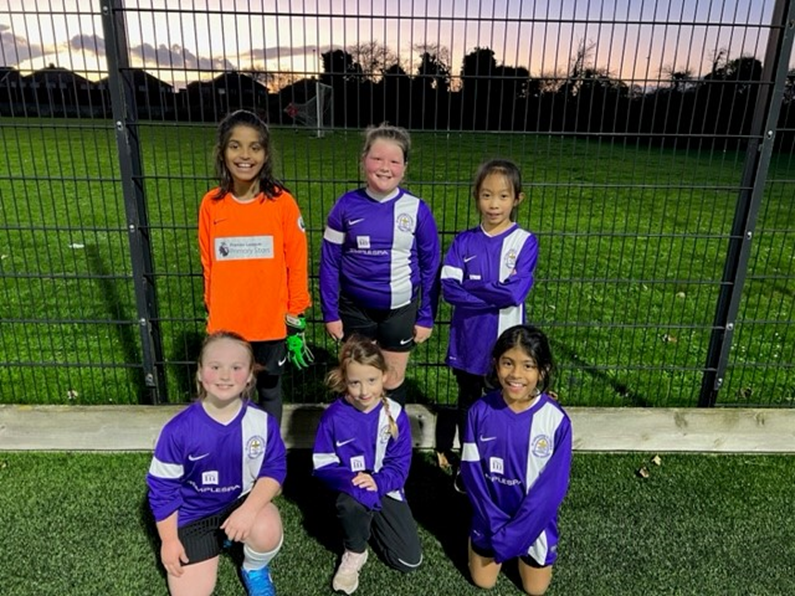 Our Year 4 girls did us proud with a never give up attitude. The girls kept going throughout all 8 games putting in some great performances and managing to win 2 games and draw 3, putting them in 5th place overall. All the girls really enjoyed their football and left the tournament wanting more. Star performers were Amelia, for her great work in goal at short notice, and Brooke, for her energy in attack and defence which really helped her team.
Year 5 and 6 Girls Football at TLA - 6/10/2022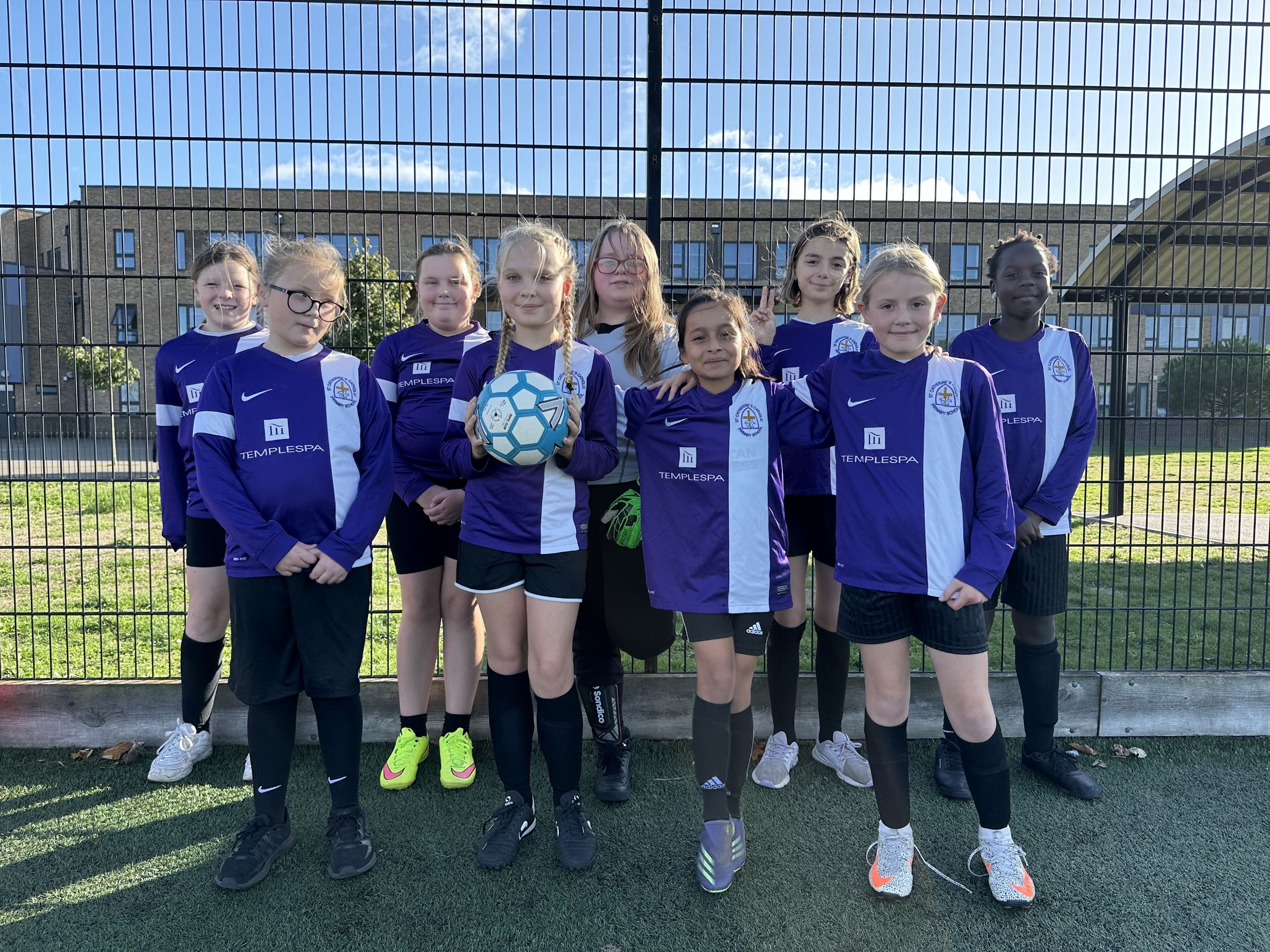 Last week was the LASP Y5/6 Girls Football Tournament at TLA! Our girls represented the school brilliantly with their determination and positive attitude. We scored 11 goals and only conceded 3, which was a fantastic defensive effort. Maisie & Armelle were our top scorers with 5 and 4 goals respectively, Alisha put in some epic slide tackles and Evie had some great saves! Well done girls, you played some excellent football!
Year 3, 4, 5 and 6 Cross Country at TLA - 29/9/2022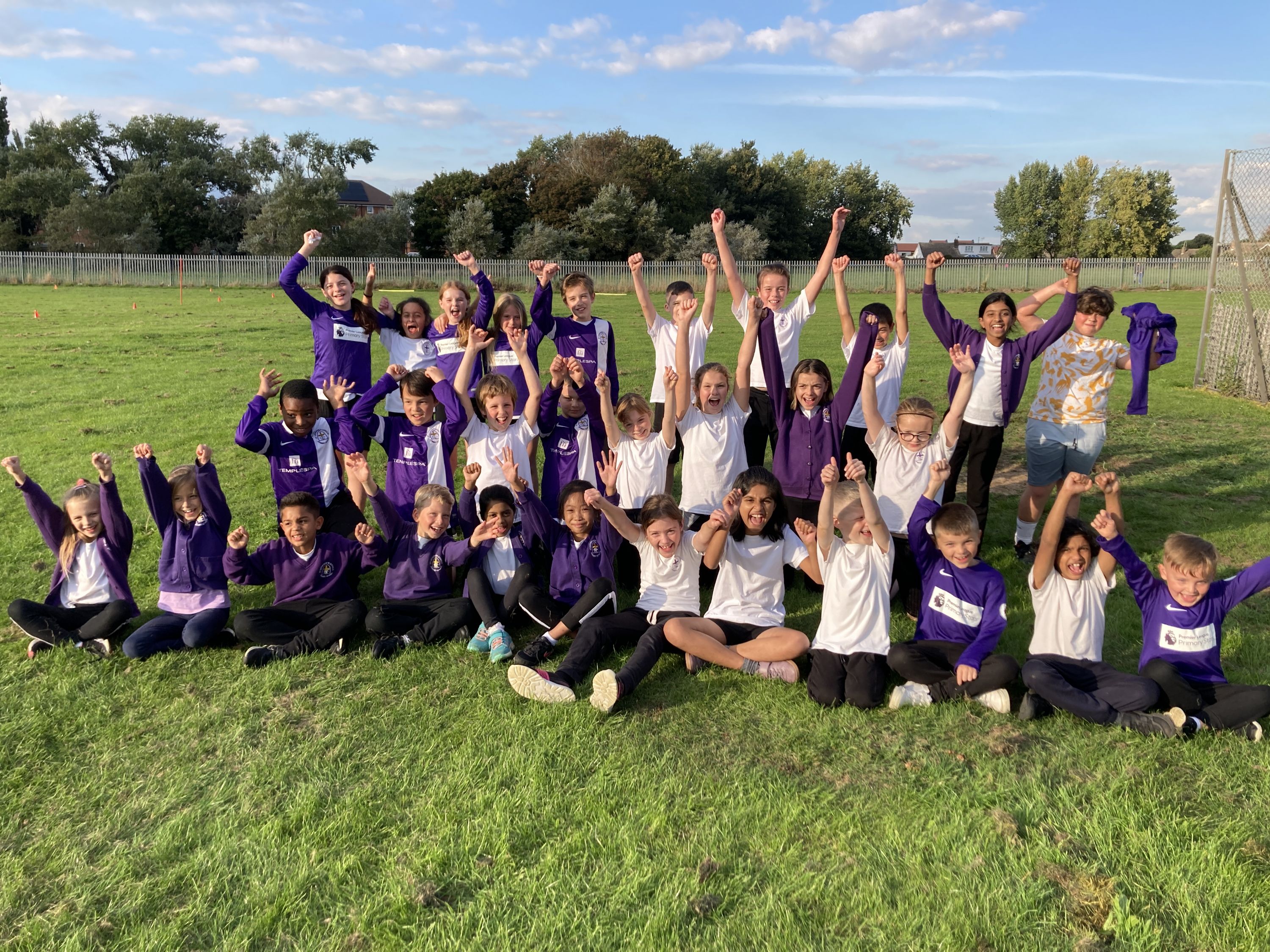 There were fantastic performances all around from our pupils at the Cross Country event hosted by TLA yesterday. They showed great determination to get around a very long course and even produced some exciting sprint finishes when crossing the line, largely due to the wonderful support the pupils gave to each other. When each pupil came around the final corner, they could hear all of their teammates chanting their name! The standout performances were from Sasha, who came 4th in the Year 3 and 4 Girls race, and Armelle, who came second in the Year 6 Girls race. St Catherine's came third overall in the Year 6 Girl's race. Well done everyone on such a huge effort!
Year 1 Multi-Sports Festival at TLA - 26/9/2022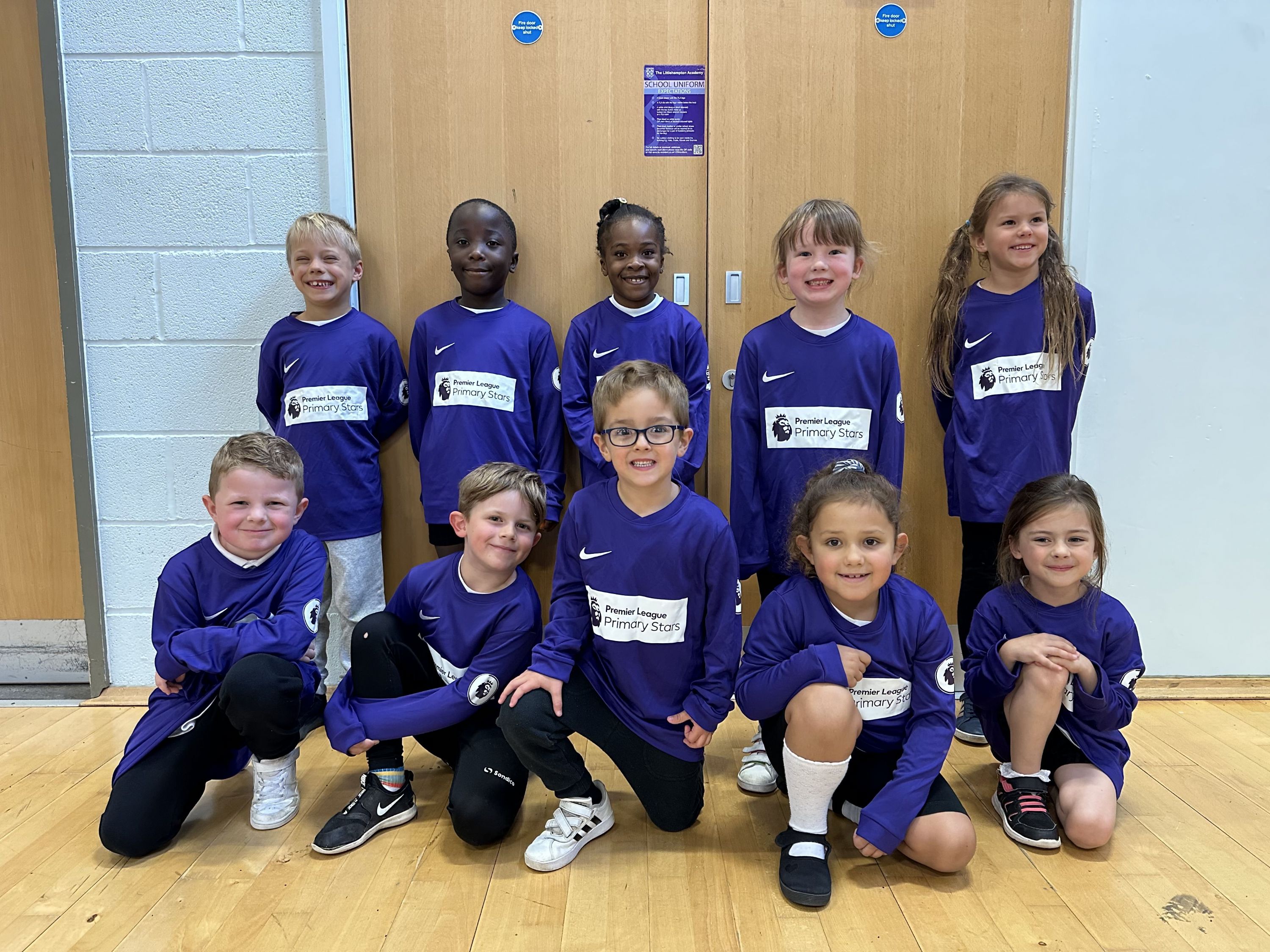 Our LASP calendar of sports kicked off with a fantastic Year 1 Multi Sports Festival at The Littlehampton Academy. All of the pupils were amazing with their determination (our LASP focus quality this half-term), sportsmanship and energy. Nine different sports were showcased and they loved trying these out with Basketball definitely being a favourite. All the pupils are excited to take these new skills into the rest of this year!
Year 5 and 6 Girls Football Euro Finals - 11/7/2022
On a day where the mercury hit temperatures to rival the upcoming World Cup in Qatar (just missing the floating air conditioning!), St Catherine's Year 5 and 6 girls football team made their way to the Angmering school astro pitch to take part in the Southern Girl's Euro finals. The team consisting of Armelle, Maisie, Elizamary, Evelyn, Imogen, Alisha, Olivia, Poppy, Tilly and Ruby started the tournament against Goring where despite hitting the woodwork countless times (and goalkeeper more than that!) they couldn't make the breakthrough. Pinpoint passing by Armelle created several chances while Alisha kept things tight at the back. Unfortunately, the inability to convert chances allowed Goring to capitalise and to score the winning goal against the run of play.
The second game followed a similar pattern where St Catherine's banged on the door constantly but failed to find a breakthrough with exciting play by Maisie and Poppy setting up numerous chances. Again, St Catherine's found themselves on the end of some nice counter attacking play by the opposition (English Martyrs), who were more clinical in front of goal, consigning St Catherine's to another defeat.
A change of fortunes in the next game saw St Catherine's win a hard-fought game against River Beach. Imogen and Olivia led the way in securing a well-deserved win. It was backs to the wall stuff for the team against a very strong Goring team. As she had done all through the tournament, Evie shone in goal pulling off some fantastic saves (these performances were rewarded with being named St Catherine's player of the Tournament). Despite her best efforts and those of Ruby St Catherine's were unable to pull off the upset and two late goals by Goring saw them run out winners.
Another defensive master class by Elizamary against Goring secured a draw in the Playoff game. A draw that was nearly broken by a Tilly wonder goal, who after picking up the ball in her own half, dribbled into the opponent's box and finished superbly only to have it cruelly called back by the referee. The players' determination and 'never say stop' attitude saw them named the 'Team of the tournament' which was a fitting tribute to the work they have put in over the last few months in their after-school football club.
The players were delighted with the number of supporters who came to watch, and they would like to thank them as well as the Angmering Sports and PE Department who put on a great event.
Year 1 & 2 Cricket Festival at TLA - 30/06/2022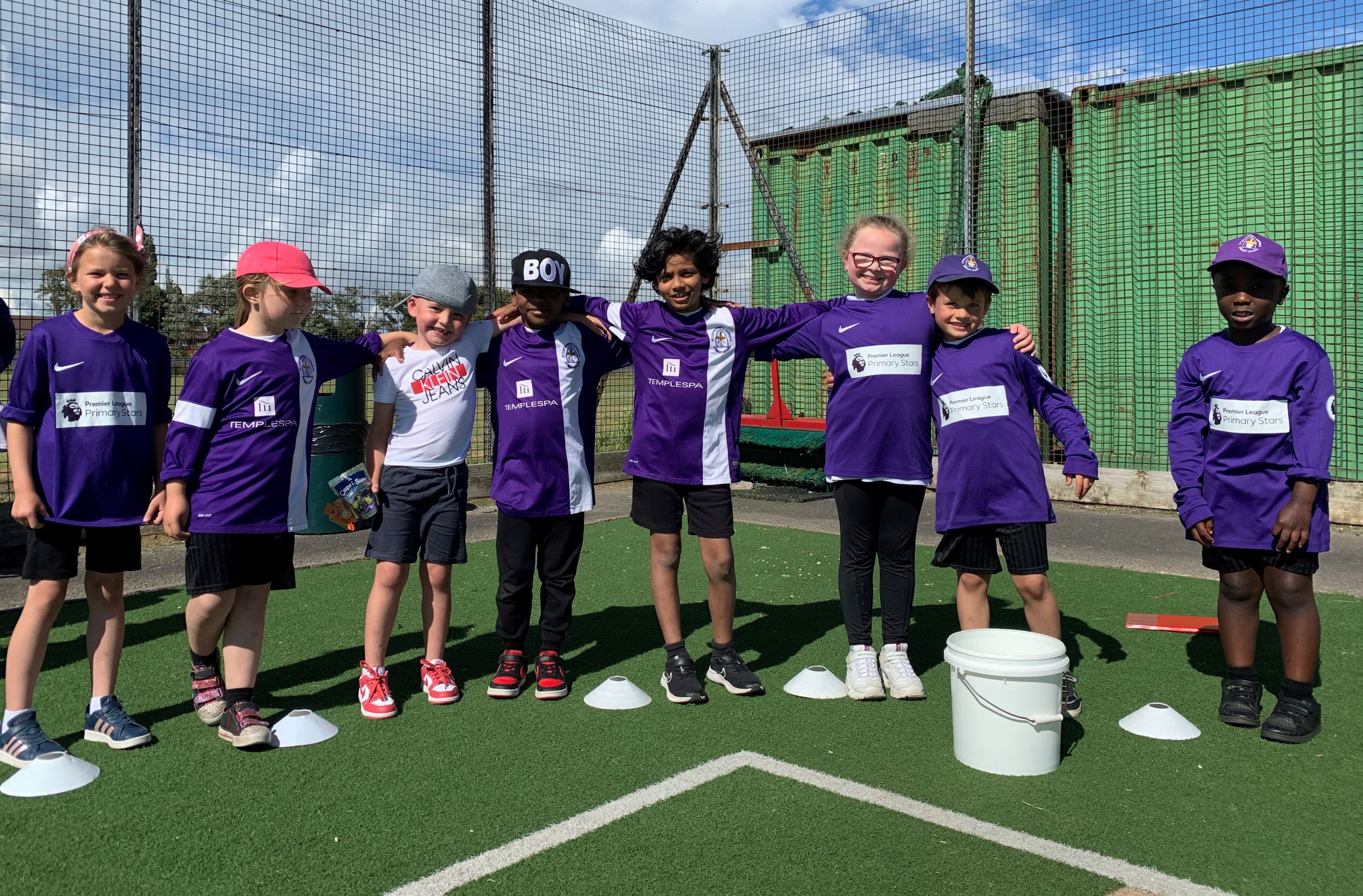 Another week and another trip to TLA this time for the Year 1 and 2 cricket festival, and what a trip it was. Fielding a team consisting of Sophia, Khaleesi, Ryleigh, Munashe, Joshua, Tilly, Thomas and Haris. They were put through their paces in several cricket events designed to test their skills.
First up was the 'bowling at the stumps' event where Tilly got to display her impressive bowling skills that she has been honing at multi-sport club on Wednesdays. Next it was onto the 'beat the fielder' challenge, some excellent batting from Joshua who was able to pick his spot with excellent precision.
A quick pitstop for some drinks and then it was onto the 'lose a limb' game, where the players got to show off their catching skills to the TLA sports crew. Some of the fantastic fielding by Ryleigh was a joy to watch while it was fantastic to see how far Haris has come with his fielding, a testament to the work he has been putting in to overcome his fear of a ball coming at him!
It was the turn of Munashe and Sophia to shine in the 'bucket challenge' with Munashe showing some lightning speed to return the ball while Sophia put her body on the line to make an excellent diving stop and although a little bruised by it, she got right back at it.
Following this it was on to the 'power hitting' challenge, here Thomas showed tremendous power to clock an exceptional speed which wowed the onlooking crowd. After some fine tuning of her technique, Khaleesi displayed unnerving accuracy in the 'bullseye' challenge getting closest to the bullseye on a number of occasions.
The last event saw the players come together as a team to work on returning the ball to the stumps. It was a wonderful show of teamwork and communication. The players would like to thank their fans, LASP for organising events and as ever the Littlehampton Academy Sports Crew.
Year 5/6 Rounders and Cricket - 23/06/2022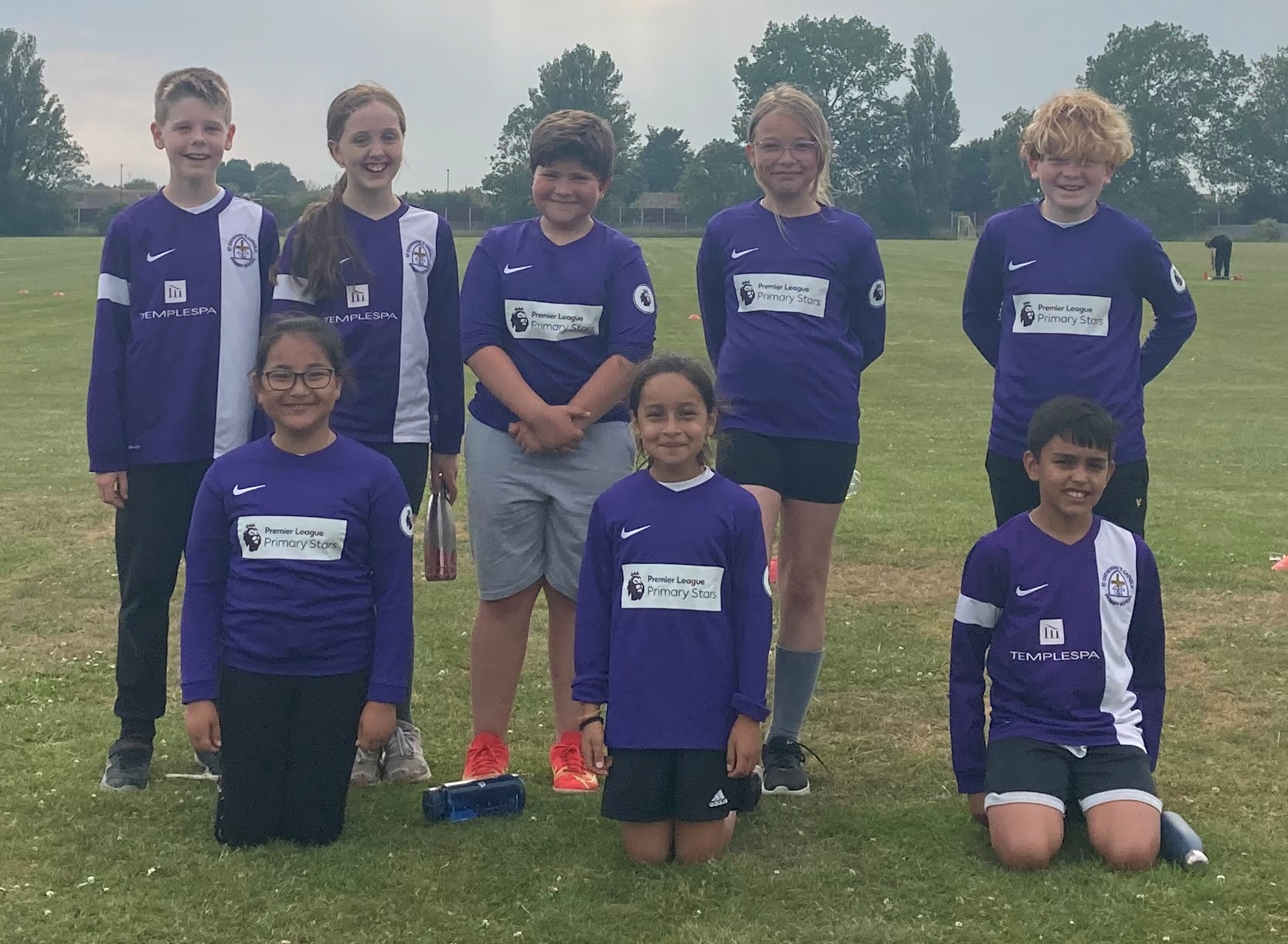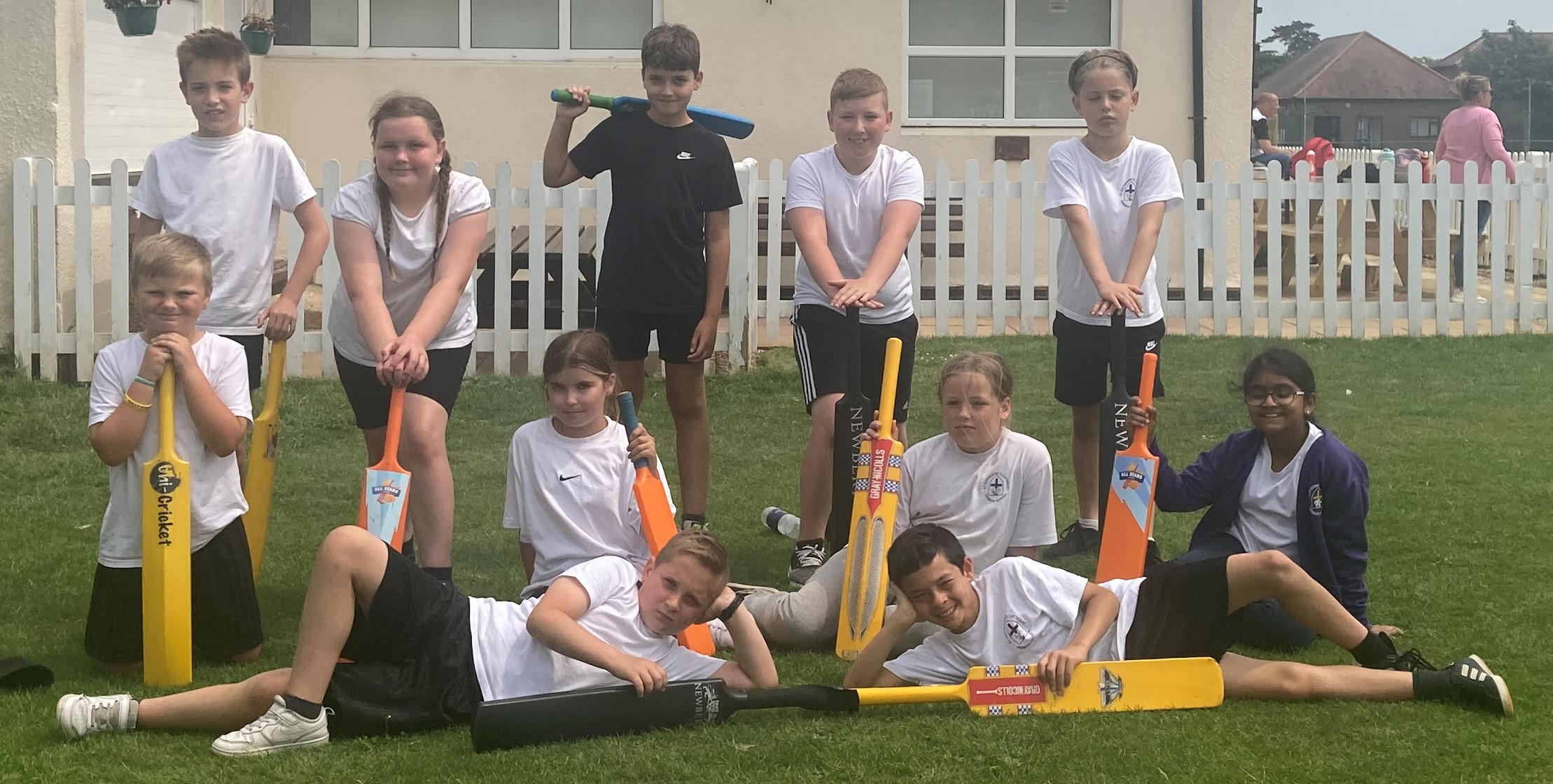 A bumper day of sport for Year 5 & 6 as they represented the school in both cricket and rounders. First up a trip to Rustington cricket club for the Sussex cricket festival where they faced Goring, St Wilfrid's and North Lancing. The day started under dark clouds as the rain fell and the forecast was not looking good. Thankfully the decision was made to persevere with the tournament as the rain lifted. It was a baptism of fire for the St Catherine's players, who have only recently started playing cricket in PE, in their first game against a very strong Goring team. Although things didn't go as planned the players persevered with some fine bowling from Lucy and Filip while Jensen and Kiera showed prowess with the bat.
In the next game against St Wilfrid's, the team improved and started to get the hang of things. There was some excellent bowling from Elizamary and Harley ably assisted by Noah provided a gettable run chase. Alas it was not to be as although the team batted well and showed some nice technique, they fell short of the target. Lunch – the highlight of any day's cricketing – followed during which the players ran through some more cricketing activities such as fielder placement when bowling as well as some batting tips from Harley's grandad.
This extra work was evident in the last game against North Lancing where Viktor and Tilly lead the bowling attack while at the other end Aiden was prolific with the bat. The players showed great leadership in being able to set their own fielders and it was great to see how they encouraged each other – which was commented on by the umpire and opposing coaches.
Next, a quick trip to TLA as Year 5/6 took part in the LASP rounders tournament. Here, the team of Poppy, Armelle, Ashton, Samuel, Harry, Tristan, Jennifer and Tian started the competition against Rustington where an early home run by Armelle got the team of to a flying start. Unfortunately they were unable to hang on and were beaten despite the best efforts of Harry and Poppy. It was onto the next game where another spirited performance saw St Catherine's push all the way with some excellent play from Ashton and Tian.
In the final game, the inability to convert some outstanding hitting, especially from late addition Jenny (who answered a last minute SOS call to help the team) and Tristan, saw them lose by the narrowest of margins to Summerlea. The play in both competitions by the Year 5s bodes well for the future as does the Year 6 play in their respective new schools.
As usual the players would like to thank all those who helped organise the tournaments and for all those who supported them (in particular Ashton's dad who provided the pre-tournament snacks for the rounders).
English Martyrs Invitational Football Tournament - 8/6/2022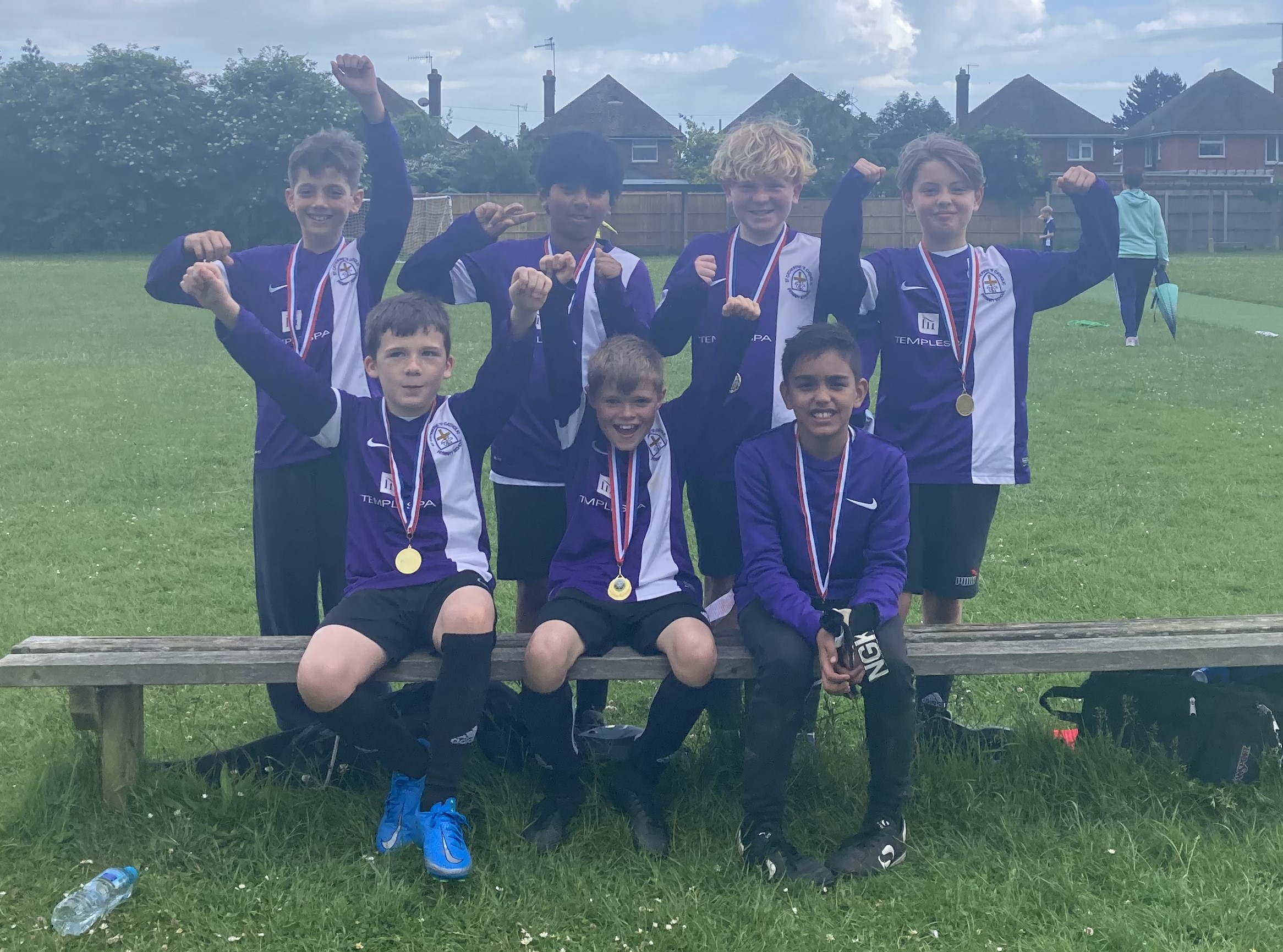 Greeted by a warm welcome and heavy showers, St Catherine's football team (Harry Atkinson, Jack Brennan, Aiden Stephenson, Tristan Fielding, Lennox Jude, Ethan Pedwell and Harry May) sought shelter upon arriving at English Martyrs Primary School. Under the welcome cover of the reception class playground the players gathered, the starting team was picked and tactics discussed as the team prepared for their first encounter. In front of a bumper crowd the purples started the tournament against English Martyrs (red) in which they had to deal with a tricky number 9 who was a threat throughout the game. Luckily for St Catherine's, Ethan and Lennox were on top form to keep things tight at the back, assisted by terrific saves from goalkeeper Tristan – whose fantastic goalkeeping would become a feature of the tournament. Despite this the number 9 was able to make a breakthrough but not to be disheartened, the team responded, scoring the equalizing goal almost instantaneously from the kick-off. Some intricate passing opened up the defence allowing Aiden to coolly slot the ball home. Despite piling on the pressure, St Catherine's were unable to break the deadlock and the game ended in a draw.
A slow start in the second game saw St Catherine's fall two goals behind to St Wilfrid's before showing more of their tenacious fighting spirit to mount a thrilling second half comeback. A goal from Jack saw momentum swing St Catherine's way to set up an exciting finish. Some great playmaking by midfield maestro Harry Atkinson led to Harry May popping up to get the all-important goal that secured the draw. A defensive master class against St Mark's with dogged defending from Harry May and Lennox, including an excellent block from Ethan, along with great pressing from the midfield and attack kept the clean sheet intact. At the other end, some fast-paced counter attacking lead by Jack and Aiden almost broke the stalemate. Jack, who had been a thorn in the oppositions side all through the game, was very unlucky not to be awarded a penalty. It was turned down by the referee much to the amazement of Harry's younger sister Lottie. The final encounter against eventual tournament winners English Martyrs (white) was a tale of what could have been. The final score not reflecting what was a very close encounter. English Martyrs (white) being more clinical in front of goal being the deciding factor.
The team's great performances resulted in them finishing in 3rd place. The players would like to thank English Martyrs School, the Oscar Romero sports crew, the referees and their fans for both the lifts to the venue and their support.
LASP Quad Kids Athletics Year 3 & 4 (23/05) & Year 5 and 6 (12/05)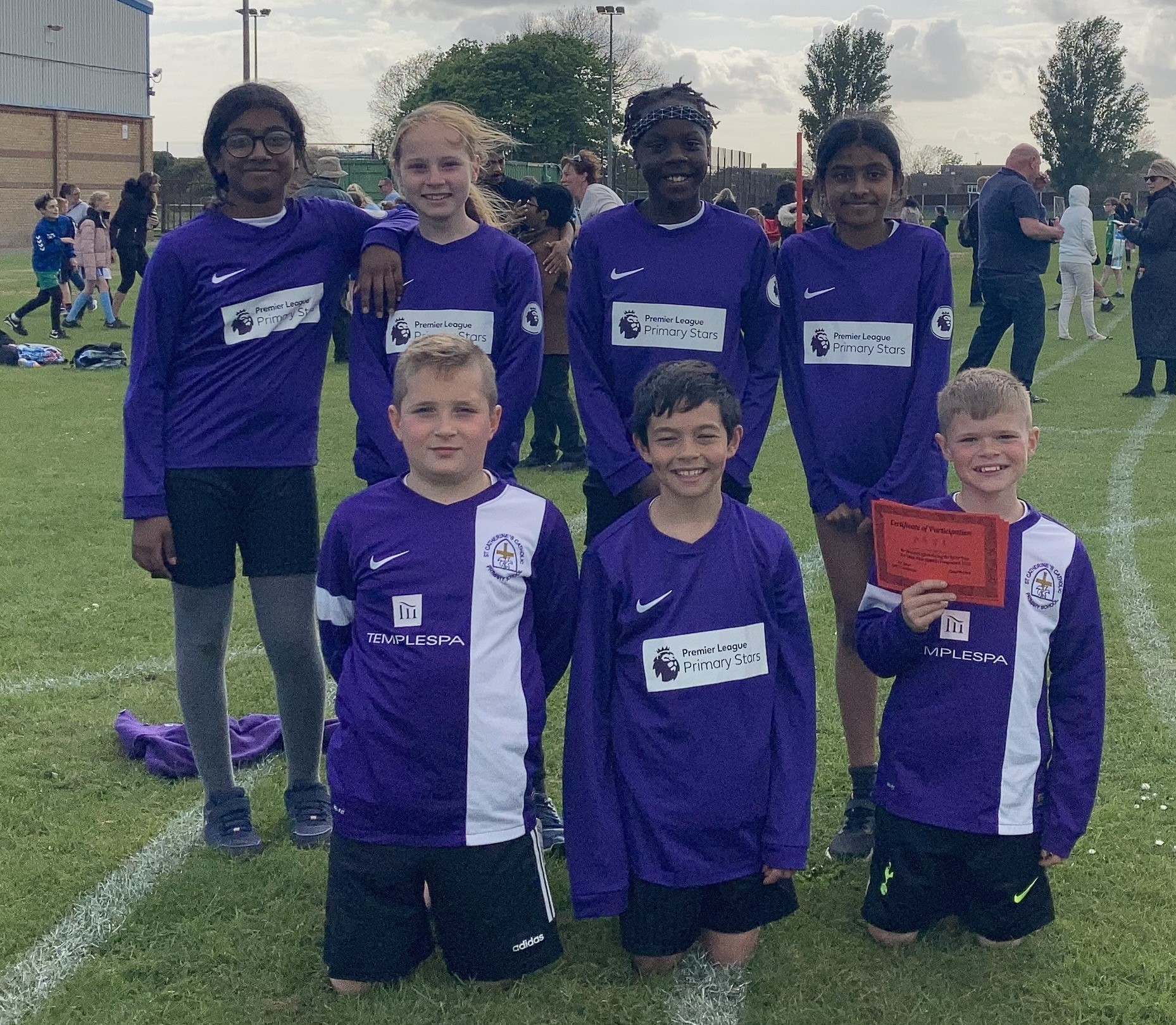 A big couple of weeks for athletics in St Catherine's with both Years 5 & 6 and Years 3 & 4 taking part in their respective LASP tournaments. The events for both groups consisted of a 60m sprint, a 600m run, a vortex throw and standing long jump as well as a team relay. First up were the Year 5 & 6 team comprising of Alisha Buwembo, Ziona Kuriakose, Kripa Biju, Jensen Fellingham Orr, Filip Ciesielski, Jack Brennan, and Juliana Fekova. With each team member given the task of setting a personal best in each event, they got down to it with focused intent. As each team member took part in every event there was a lot of action going on. In the 60m Ziona showed blistering to speed to record a GREAT time and set the bar high for the rest of St Catherine's. While over in the vortex throw Philip and Kripa displayed textbook throwing technique and finished near the top of their group. In the jumps, Juliana and Jack brought back memories of Tokyo 91 where Mike Powell and Carl Lewis battled it out to see who would be victorious. Jensen and Alisha showed tremendous tenacity to keep going in the 600m under trying conditions. The team came together for a strong finish to place third in the relay.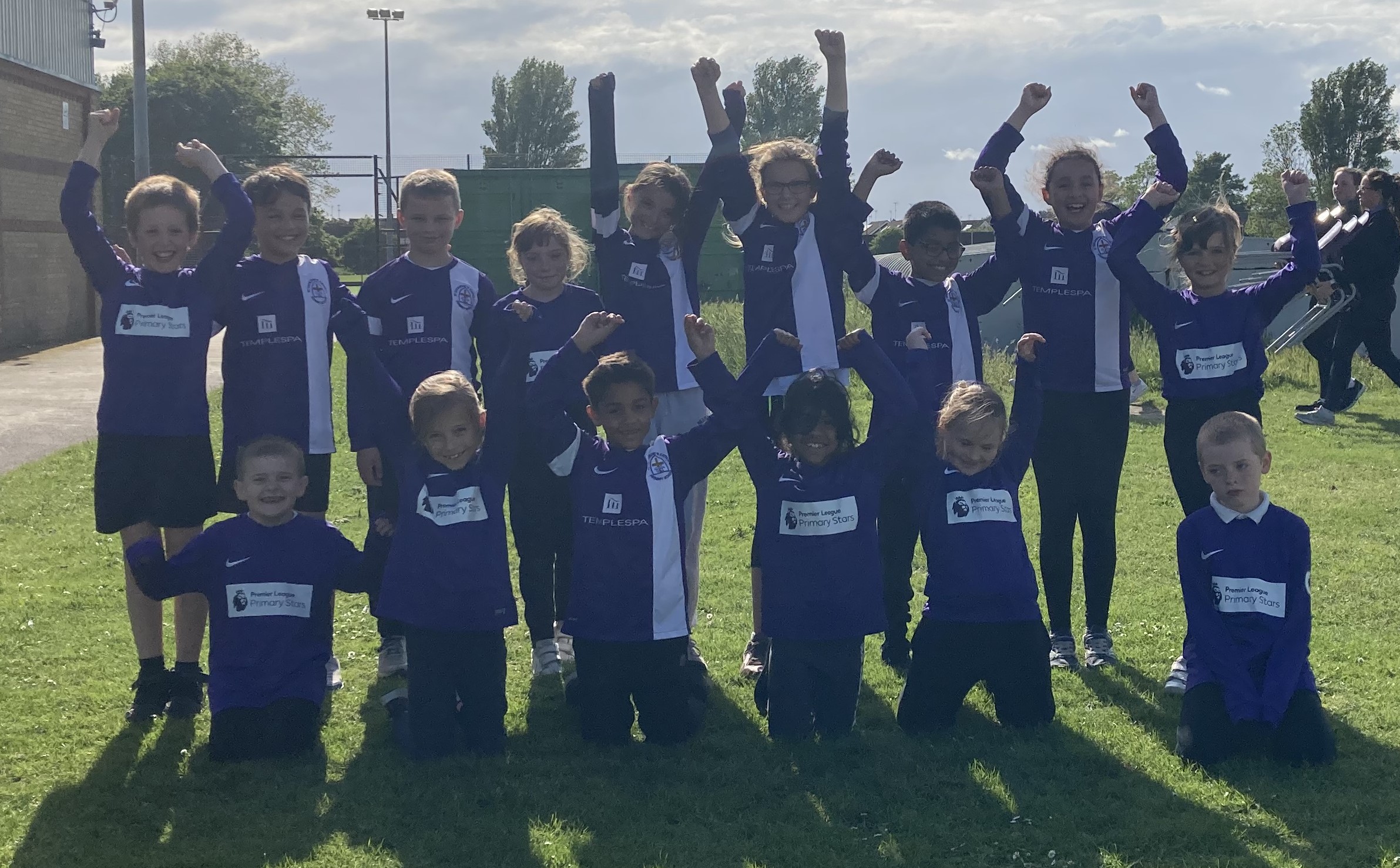 A week later it was the turn of the Year 3 & 4 team to show off their athletic prowess. For Year 3, there were some impressive performances from the pairing of Benji and Brooke who took the energy they show in PE to the 600m run. Callum and Mia did fantastic in the jumping portion. Isabel displayed great technique in her 60m heat finishing 3rd. Logan and Sasha (who displayed notable school spirit to help out Year 3) showed intense determination to get through the 600m with Sasha encouraging Logan at every step. The Year 4 team performed brilliantly to finish 3rd in the competition. Jacob Leggatt and Lucy starred in the sprint while Abel and Scarlett did tremendously well in the jump section. The vortex throw was where Emily and Charlie shone displaying great arm power to achieve some impressive distances. Both Stanley and Kiera were outstanding in the 600m with Kiera leading the race only to be pipped at the post. The performance of the day was saved for last where the Year 4 relay team romped home to a comfortable win the relay race.
The athletes would like to thank LASP, TLA sports crew and their supporters for making it a very enjoyable event.
Year 1 & 2 Mat Ball at TLA - 6/4/2022
It was with great excitement that the Year 1 and 2 pupils made their first trip to represent St Catherine's at a LASP tournament. The players, Christelle, Maggie, Ruby, Nuala, Harrison, Harry, Joshua and Theo who had been honing their mat ball skills in PE, were ready to take on the challenge.
The tournament got off to a flying start with a resounding win against River Beach with some terrific play from Joshua and Christelle. This was followed by a tough loss to the overall winners Arundel where the team showed great spirit to keep battling to the end. In the next games some tenacious defending from Harrison and Ruby secured a draw against St Philip's after a great fight back and this momentum was taken in to the next game against Rustington where another determined team performance lead to victory. Two tough losses followed one against a strong Lyminister team and a loss in a hard fought encounter with Summerlea despite the best efforts of Maggie and Harry.
In their final three games the team came together with some great encouragement and play from Nuala and Theo to secure 2 wins including a nail-biting 5-4 win in their final game against Summerlea. The players were cheered on throughout by some fantastic support and were delighted to receive their awards at the end of the competition having done the school proud. The players would like to thank the TLA sports crew, LASP and their supporters for making it an enjoyable first foray into representing the school.